Hello Youth Football Commissioners
By FirstDown PlayBook on Jun 27, 2020
Hello Youth Football Commissioners,
I am Charlie Coiner, a 30-year college and NFL coach and the founder of FirstDown PlayBook. I wanted to let you know about FirstDown PlayBook and some of the things we are offering the youth coaches in your organization.

FirstDown PlayBook is the official playbook of USA Football and Football Canada. We offer coaches over 35,000 plays, defenses and schemes that are all designed by former NFL coaches.
All plays are blocked up vs multiple defenses and all defenses are matched vs multiple formations.
All plays come with coaching points & player assignments that are editable.
You can create playbooks and wristband sheets that are easily shared with the team.
CLICK HERE TO TRIAL FOR FREE! We offer your coaches an opportunity to visit a trial demo site to try out FirstDown PlayBook. It is absolutely free and there is no obligation on their part for trying the demo. Please feel free to pass along this email or the link above where the FirstDown PlayBook free trial demo can be accessed.

We are also offering a Youth Football Chalk Talk webinar on Wednesday nights at 9:00 ET. It is free and I will take these coaches through some of the fundamentals that will help them this season. Please see the dates and topics offered below. Click on the banner to see the dates and to get the link to pass along to your coaches.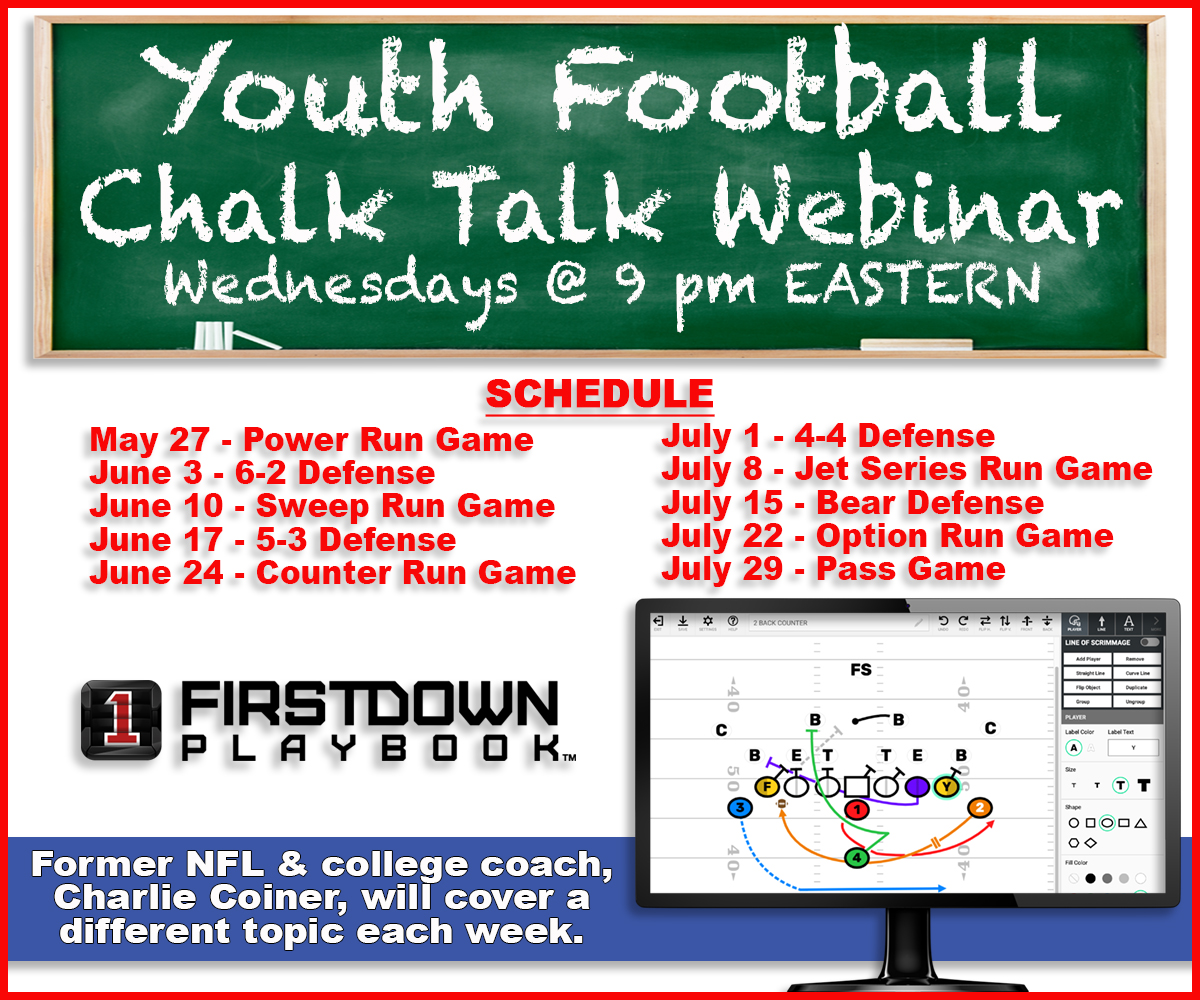 Finally, we have friendly group rates and individual discounts for FirstDown PlayBook. If you are interested in this, please click below to learn more about it.
Click here for group rates!

Thank you,
Charlie Coiner